The twenty fourth Nigerian Economic Summit has ended in Abuja with calls on government on better commitment to citizen welfare.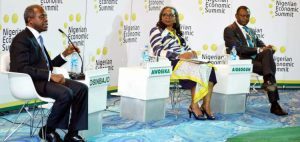 The Nigerian Economic Summit Group at the conference's close said it expects the Nigerian authorities to take a cue from suggestions from the summit's sessions for more inclusive growth.
The private sector also made commitments to finding alternative sources for private sector funding.
Meanwhile finance minister, Zainab Ahmed said government is working to ensure the non-oil sector growth as well as infrastructure development.
Other panelists also suggested ways the country could take its people away from poverty and improve economic growth.
The summit centered on corruption and the rule of law, effective public institutions,sustainable economic opportunities, human development and citizen's rights.