The Minister of Interior, Olubunmi Tunji-Ojo, has ordered the Nigeria Immigration Service to clear a backlog of over 200,000 applications for passports, in two weeks.
The Minister gave the order during a meeting with top government officials, the Acting Comptroller General, Adepoju Carol, and the Managing Director of Iris Smart Technologies, a third-party company in charge of the production of passport booklets.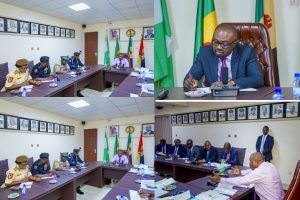 The action according to a statement by the Special Adviser to the Minister on Media and Publicity, Also Babatunde is in furtherance of the Ministers pledge to remove "bottlenecks in the acquisition of passports and other immigration documents."
Delays in the processing and enrolment of passports in Nigeria has been a source of frustration for citizens, causing significant delays in obtaining crucial travel documents.