As France and Italy fly their nationals out of Niger Republic following last week's military coup, military aircraft transporting hundreds of European individuals evacuated from the West African nation have landed in Paris and Rome.
The democratically elected government of Niger was overthrown by a military junta on July 26. This was the seventh military coup in West and Central Africa in less than three years.
With the potential of escalation, France, the former colonial power, Italy, and Spain stated they would evacuate individuals by air.
The first two French aircraft departed Niger on Tuesday evening and arrived in Paris early on Wednesday, carrying more than 350 French citizens as well as citizens of a number of other countries, according to the French foreign ministry.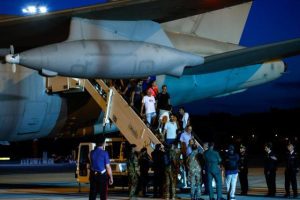 According to the Italian Foreign Ministry, among those arriving in Rome were 21 Americans, many of them were members of an evangelical Christian group from Texas.
An Italian military flight carrying 87 evacuees from Niger arrived in Rome before dawn on Wednesday, according to Reuters journalists at the airport, with Foreign Minister Antonio Tajani greeting the arrivals as they came down the steps from the plane.
Some 36 Italians, four Bulgarians, two Austrians and one citizen each from Britain, Niger, Hungary, Senegal and Nigeria were also on the plane, as well as military personnel.
The recent coups in the region have come amid a wave of vitriol aimed at France that resulted in its troops having to withdraw from Mali and Burkina Faso this year and last.
Many of those soldiers are stationed in Niger.
The United States, Germany, and Italy also have troops in Niger on counterinsurgency and training missions.