Nigeria Customs Service (NCS) has commended the founder of Dorian Children Home, Akure, Dr Tolulola Bayode for being deliberate about taking care of vulnerable people.
The Comptroller General of the NCS Adewale Adeniyi gave the commendation on Monday while inspecting facilities at the orphanage along Idanre road, Akure.
According to him, the founder should be commended for taking children off the streets and bring succour to the downtrodden.
Adeniyi promised that the Nigeria Customs Service will partner Dorian Children home, adding that the inspection was necessary so that the Service would ascertain what areas to assist the home
The Customs boss said that as part of responsibilities of NCS, the Service supports orphanage homes with materials and items for the upkeep of children.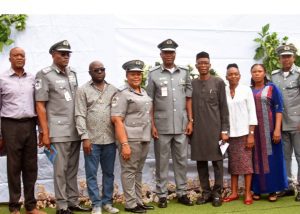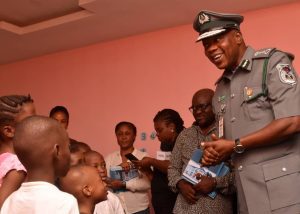 He noted that the facilities put in place by the Founder and Chief Executive Officer (CEO) of Dorian Home, Dr. Lola Bayode showed that the operator is passionate about the welfare of the children.
Fielding questions from newsmen, the Comptroller General said: "We are an agency of the government and our mandate is basically to work around and generate revenue for the country.
"We do not generate this revenue in a ghost city, we operate within society, communities and border areas within state commands.
"When we do this, we also feel that we have a responsibility to the community that helps us generate that kind of revenue.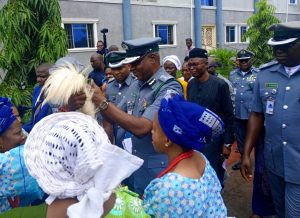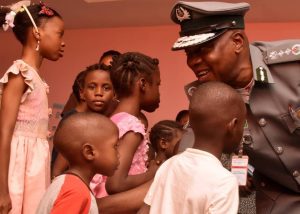 "So, we want to remain a very committed and patriotic agency of government. This is why we find it necessary to seek out organisations like Dorian Home that are responsible for taking care of the community that we serve and forge partnership with such organisations. In doing so, we also learn from the experiences we have had in the past.
"In the past, when we tried to extend hands of fellowship to places like this, we either had situations where some of those things might be diverted and end up in the wrong hands, or some of them might also end up in the markets and then be sold.
"So, this time in our review strategy, we want to identify these organisations. We want to be sure they have the proper structure to drive what they are doing. Then we also want to see passion and their commitment towards it.
"My assessment visit has shown that all those three elements are present in Dorian Home. In all such other organisations where we see those elements present, we would be extending our hands of assistance and partnership to them.
"We have seen that this place has capacity for almost a thousand kids, so they need to feed them, clothe them, provide them with medicines and things like that.
"So, in any of these areas, periodically, we would be looking at our stores and sending off those kinds of items that could assist them in achieving the objectives for which these kinds of homes are set up."
Reacting to the visit and promise of the Comptroller General, the General Manager of Dorian Home, Mr. Niyi Ogunleye, who represented the founder, Dr. Lola Bayode, explained that the Home does not only focus on shelter, feeding and clothing of vulnerable children, but it takes care of the education of the children in order for them to achieve their dreams despite their challenges.
He noted that the Home has been focusing on its mission statement of "providing decent shelter and catering for the welfare of the vulnerable, including children, widows, elderly and youths and those ravaged by wars and communal clashes."
Ogunleye said: "Dr. Lola Bayode is really passionate about the children in the Home and committed to giving all necessary things to enable them achieve their goals in life.
"Besides those who are resident here, there are some other children that Dorian Home takes care of in terms of feeding, clothing and education.
"It's a good development that the Comptroller General of Nigeria Customs Service came here and inspected our facilities
"With what he saw here, he's convinced that Dr. Lola Bayode is not paying lip service to taking care of orphans in our society."