The Governorship Candidate of the All Progressives Congress APC in Benue State, Hyacinth Alia has congratulated the president – elect of the Federal Republic of Nigeria, His Excellency, Asiwaju Bola Ahmed Tinubu on his resounding and well-deserved victory at the just concluded presidential and national assembly elections in Nigeria.
Hyacinth Alia also congratulates Nigerians for openly expressing their civic duty by electing a leader whose capacity and past record of service endeared him to all and sundry.
He expresses the confidence that Bola Ahmed Tinubu will lead a renewed push to move Nigeria from the status of a Nation of potential into a country of actual accomplishment.
He said the former Governor of Lagos State will not only consolidate on President Muhammadu Buhari's successes, but will also use his experience of building human capital, industries and institutions to grow the nation's economy to an enviable height.
He equally hails Senators and House of Representatives Members – elect, saying it's now time for them to steer Nigeria into the path of sustainable peace and unity and accelerate the much desired socio-economic development.
The Benue APC governorship candidate calls on Nigerians across party and ethnic divides to join hands and re-embark on building a peaceful nation to create a flourishing economy with opportunities for all to thrive.
ILORIN RESIDENTS CELEBRATE TINUBU, SHETTIMA'S VICTORY IN PRESIDENTIAL POLLS
There was jubilation in Ilorin, the Kwara state capital over the emergence of Asiwaju Bola Ahmed Tinubu as Nigeria's President-elect.
Some members of the All Progressives Congress took to the street to celebrate the victory.
They were joined by other residents who were obviously elated over the election of Tinubu.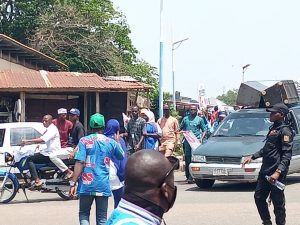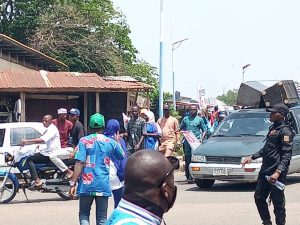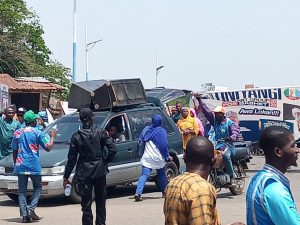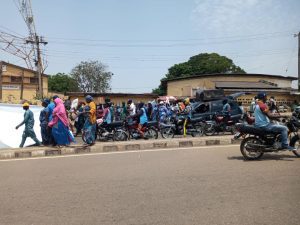 They walked round some major streets of Ilorin from GRA to the popular Post Office and Challenge roads amid songs and dance.
They express optimism that the Tinubu Presidency will address the wants of the common man.
DARE CONGRATULATES TINUBU, SHETTIMA ON ELECTION VICTORY 
Minister of Sports and Youth Development, Sunday Dare, has congratulated President Elect Asiwaju Bola Ahmed Tinubu and his running mater Senator Kashim Shettima on their victory in the 2023 Presidential Election.
His congratulatory message which was contained in Statement tagged "Tinubu a Cerebral and Compassionate Leader" described the former Lagos State Governor as a man with so much passion for Nigeria and a desire to affect the Lives of the poor positively.
He added that his victory at the polls is a testament to his investments in institutions, people  and relationship for decades.
He added that the life of the former Lagos State Governor is filled with testimonies of problems and challenges that were thought to be unsolvable but have now been addressed.
He expressed confidence that he will take Nigeria forward and expand on the good foundation laid by President Muhammadu Buhari.
Read Full Statement Below
I most heartily congratulate my benefactor and mentor, Asiwaju Bola Ahmed Tinubu and his running mate, Senator Kashim Shettima, on this amazing victory.
Having worked in very close quarters with him, I know how much passion he has for Nigeria and how deep his desire to help the poor goes.
Nigeria could not have picked a more cerebral and compassionate leader to carry forward the work that has been done by President Muhammadu Buhari in the last eight years.
Today's victory is testament to the President-Elect's decades of investment in people, relationships, and institutions. His story is filled with testimonies of the strategic solutions he applied to problems that were thought to be unsolvable. He took on the Atlantic Ocean and defeated. I am certain that he will lead Nigeria to economic excellence and peaceful coexistence.
Now that we have arrived on the other side of the murky waters of electioneering, it is time we all passed around the towel of understanding and patriotism. I implore the members of the ruling All Progressives Congress (APC) to be magnanimous in their triumph and resist the urge to aggravate our opponents. I also call on the opposition to look at the final result as the true will of the people that has come after a fair and free contest. Nigeria's success is far more important than personal egos.
I, therefore, call on men and women of conscience to see the election as a process, however imperfect it might be, and let the country heal. We cannot afford another crisis.
Once again, I congratulate the President-Elect and the Vice President-Elect on this outstanding feat. Nigerians, congratulations on voting in the most competent team on offer. May God grant them the strength and wisdom to deliver good governance to the people.
OYEBANJI CONGRATULATES PRESIDENT-ELECT, TINUBU
Ekiti State Governor, Mr Biodun Oyebanji has congratulated the Presidential Candidate of the All Progressives Congress (APC) Asiwaju Bola Ahmed Tinubu over his election as the President-elect, of the Federal republic of Nigeria.
The Independent National Electoral Commission (INEC) had on Wednesday morning, declared Asiwaju Tinubu winner of the February 25 Presidential election having scored the highest number of votes of 8,794,726️ to defeat Atiku Abubakar of the PDP who polled 6,984,520 and Peter Obi of the Labour Party (LP) who got 6,101 533.
Governor Oyebanji, in a statement in Ado-Ekiti, described Asiwaju Tinubu's emergence as the President-elect as a sweet victory, coming after a rigorously fought electoral process.
Oyebanji congratulated the President-elect, whom he described as a man of immense experience, capacity and competence who will lead and serve the country with courage and sagacity.
The Ekiti State Governor also congratulated Nigerians for the success of the electoral process, adding that the success of the 2023 elections attests to the fact that democracy has taken a firm root in the country.
"First of all, we give thanks to God Almighty for this victory. Hearty congratulations to our leader and President-elect, Asiwaju Bola Ahmed Tinubu, and a big congratulations to the Nigerian electorates- who are the real winners in the contest.
"It is a new day in Nigeria, a happy day for all lovers of democracy, Asiwaju Tinubu's electoral victory is a defining moment in the anal of our political history as a nation.
"I have absolute confidence in Asiwaju Tinubu's capacity to turn around the fortunes of the country and lead Nigeria to a new level of economic prosperity and international relevance."
While also congratulating INEC leadership and the ruling All Progressives Congress (APC), Oyebanji urged Nigerians to be prepared to give massive support to the incoming administration to be led by Asiwaju Tinubu.