The ruling All Progressives Congress in Zamfara has again pledged to whip out all known and unknown differences among it's members
The party insisted it is committed to given equal right and fair treatment to all authentic members.
A press statement signed by the Zamfara State spokesperson of the APC Yusuf Idris Gusau said the move is to further Strengthen and unite members of the party as one big family.
The state Chairman of the party Tukur Umar Danfulani stated this at a meeting with members of the state House of Assembly at the state APC Secretariat in Gusau, the state Capital.
Advertisement

The Zamfara APC boss Danfulani said it is crucial for his leadership to keep constant touch with all members, while assurring that every member will be given equal treatment so as make the party more stronger
He noted that, as legislators who are closer to the Grassroot, the party relies strongly on them for contact and mobilization especially as another round of Election is fast approaching
" I am assuring you that no one will be left out in all affairs of our great party" Danfulani assures the Lawmakers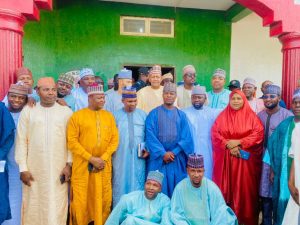 Advertisement

" I urge you to continue with all the good works you are known for and remain close to your constituents as they are also very important to us as a party, hence elections is around the corner" He added
The Zamfara APC who commend the good working relationship between the Executive and the legislature and the support the party is getting from them which has made governance easier in the state.
In his remarks, the Speaker Zamfara state House of Assembly, Nasiru Mu'azu Magarya applaud the initiative of the state APC leadership to meet the lawmakers, a move he described as brilliant and should be sustained on a regular basis
Speaker Magarya assures that his members are committed to the success of the APC at all levels, noting that they have always been close to the grassroots and will continue doing so even after the elections.
Advertisement

"As Lawmakers we have always been very close to our people at the grassroot and will continue to relate with them consistently even after the elections" Magarya assures.
The meeting was attended by all members of the APC State working Committee led by its Chairman Tukur Umar Danfulani and all members of the Zamfara state House of Assembly led by the speaker, Nasiru Mu'azu Magarya.