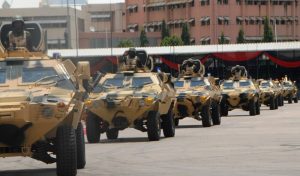 Bayelsa state governor,  Seriake Dickson, has advised on the present crop of military officers to imbibe the virtues of the sacrifices of fallen heroes and strive to protect democracy to avert undesired outcomes in elections.
At an inter-denominational thanksgiving service to commemorate Armed Forces Remembrance Day in Yenagoa, the Bayelsa Governor also called for more training, increased funding and provision of equipment for the military.
Governor Seriake Dickson led the legionnaires out for a thanksgiving at the Inter-denominational service of the Armed Forces Remembrance
Celebration.
Characterised by heavy dancing and the funfair associated with the annual ritual, the programme calls for sober reflection with the theme of
sacrifice for a nation striving to deepen its democracy.
Training and provision of equipment will aid the military in the fight to protect the territorial integrity of the nation, but welfare of the retired
soldiers is of utmost importance.
Also, Akwa Ibom governor, Emmanuel Udom said Nigerians have many reasons to be grateful to the Armed Forces and Legionnaires for sacrifices to keep this country as an indivisible entity.
This was his message on the occasion of this year's inter-denominational thanksgiving service to mark the Armed Forces Remembrance Day celebration in Uyo, Akwa-Ibom state.
The grand finale of the week-long event ends with a wreath-laying ceremony on Wednesday.