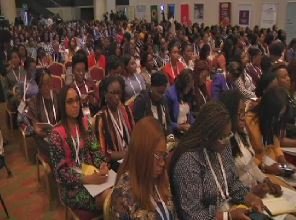 Business leaders have advised women to develop strategies on how to secure their seat on the business table, discover how to collaborate to win, and also negotiate a fair contract.
They made this call at a Women business forum, held in Lagos.
Advertisement

Abiola Sholanke women make up 49% of the Nigerian population and nearly one out of four women in sub saharan Africa is a Nigerian.
The Women In Management, Business and public service popularly called WIMBIZ, was formed in 2001 as a platform to inspire, empower and advocate for greater representation for other women.
Advertisement

The theme for this year's conference "Shaping the Future: Strategizing to Win", is to give participants the inspiration they need to gather strength to forge ahead.
Speaking at the event, wife of Ekiti state governor, Bisi Fayemi, highlighted factors that contribute to a woman's growth.
Advertisement

Participants at the event explain the importance of empowering women to attain positions in management, business and public service.
At the end of the deliberation, it is hoped that more women will find their purpose, have self love, discipline and consistency, face their fears and have good attitude toward issues that surface.
Advertisement

Advertisement