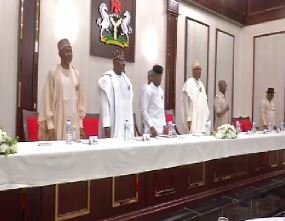 The National executive council of the All Progressives Congress has commenced and the two factional Edo state chairmen, arrived together.
But the faction that announced the suspension of the national chairman, was denied entry into the venue of the meeting.
This is coming a day after the caucus meeting at the presidential villa on Thursday.
In attendance at the closed-door meeting were the President, Vice President, National Chairman of the party, National leader of the Party, State Governors, Members of the National Assembly and other members of the National working committee.
This is the first official NEC meeting the party is holding after the 2019 general election.
President Muhammadu Buhari told NEC members to re-position themselves to dominate politically in their various states.
They highlight their gains and losses in some states were they won and lost elections,
The president also said, after his term in office APC must work to ensure that it will not be the end of the party.
The president stated "What happened in Imo, Bauchi, Sokoto, Zamfara are unfortunate, state chairmen should follow the party's constitution and stick to it in the sense that it is bottom to top affairs, this is the only way the party can survive.
If for any other reason the party is divided and it caused failure, then history will not recognize you.
The executive relationship with the Legislature, the 9th assembly have soo much commitment and there is lots of progress, this relationship will be maintained, because there are lots of things that will not go public," he said.