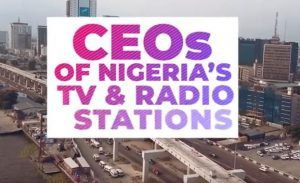 All is now set for the 18th Annual General Meeting (AGM) and the 72nd General Assembly of the Broadcasting Organisations of Nigeria (BON), scheduled to hold on Wednesday 23rd October, 2019.
Heads of broadcasting organisations from different parts of the country will converge on TVC Communications' headquarters in Lagos, venue of the convention, to discuss issues of mutual interest geared towards moving the Nigeria broadcast industry forward and entrenching best practices.
The event will have the governor of Lagos, Babajide Sanwo-Olu and the Minister of Information and Culture, Lai Mohammed, as distinguished guests of honours.
The theme for this year's convention is "Nigeria Digital Transition, a panacea for economic growth".
Earlier, the Chief Executive Officer, TVC Communications, Andrew Hanlon, said his organisation is delighted to host this years' annual convention of broadcasters from all corners of Nigeria.
"We are delighted to host this year's convention, particularly as we enter a period of major change in the broadcast sector. For those of us who work in TV broadcasting and those who watch and advertise on our channels, this is a time of immense change as we prepare for the Digital Switch-Over to DTT (Digital Terrestrial Television)."
"Most people in Nigeria have little or no idea that the old way of receiving TV signals in their homes is about to radically change from analogue to digital, nor do they understand the technology they will require to receive new high quality TV signals nor the cost involved. Both I and the TVC Communications team look forward to hosting robust debate with signal providers, government and regulators at this timely and important gathering of Nigeria's broadcasting community."
TVC Communications is a leading, independently owned and operated media organisation established in 2007, with its headquarters in Lagos, Nigeria. Our TV and radio stations include:  TVC (general entertainment channel) TVC News (24 hour Nigerian news channel) Max FM, Lagos, Max FM, Abuja and Adaba FM.