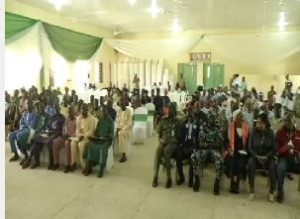 Fifteen former Boko Haram combatants have graduated from the Nigerian Military deradicalization programme codenamed Operation Safe Corridor.
The reformed men were presented with certificates by a representative of Gombe state governor after they took the oath of allegiance to the Nigerian state.
Operation Safe Corridor was established in 2016 under the defense headquarters and has rehabilitated a total of 253 former Boko Haram fighters including two Chadians.
Advertisement