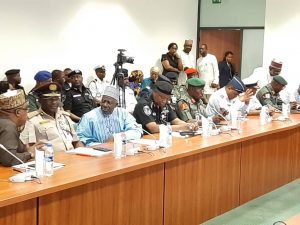 The leadership of the House of Representatives and Nigeria's Security chiefs are currently in a closed door meeting to deliberate on the security situation in the country.
Speaker Femi Gbajabiamila said the meeting is to look at possible ways the parliament could intervene for lasting solution.
Mr. Gbajabiamila admits the security agents have recorded some giant strides which are now being eroded as a result of increasing wave of terrorism and other criminal acts.
The Chief of Defence Staff said appreciable progress has been made in the last four years and that the armed forces will continue to strategise for an end to terrorism and insurgency , particularly in the North East.
Advertisement

Recall that Security Chiefs had failed to appear before the House of Representatives Leadership last Friday, a development that did not go down well with the Speaker and other principal officers.