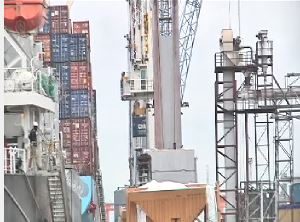 The sustainability of human capacity development for Nigeria's maritime industry will enable the attainment of a hub port status.
Participants underscored this at the United nations train for trade port conference in Lagos.
TVC News Correspondent, Ifunanya Eze reports that participants arriving to mark a significant milestone following the successful conclusion of circle 2 train for trade port management programme by the United Nations Conference on Trade Development.
The programme which has the mandate to grow synergy in the country's port industry is expected to lead to the realization of the United nations sustainable development goals.
Drawn from a network of Nigerian port community, participants are to deploy knowledge acquired to develop skills for trade facilitation among port communities.
The initiative will also drive the integration of Nigeria's port system to align with the globalized world economies.
The United nations Conference for trade and development priority target is premised on increasing the volume and conditions of trade for port communities.