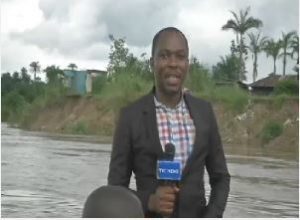 The possibility of a gully erosion in Abari Community in Patani Local Government Area of Delta State is now a major source of concern for residents in that community.
The people are now asking the Federal Government and other relevant agencies to come to their aid.
TVC News Correspondent Ikenna Amechi reports that Abari is a riverine community which is majorly agrarian. It is also on the coast the popular Forcados river which members of this Ijaw speaking community use as means of transportation and fishing.
But the river has become a perceived enemy of the community as it is gradually washing away its landmass leaving it on the verge of being wiped out.
Advertisement

Houses or what is left of them,  used to be at the centre of the community but now show the extent the erosion is going unabated, with homelessness in its trail.
At the premises of this octogenarian, he recalls with nostalgia how far into the river the community used to be. He also reveals that the trans-Niger Oil Pipeline passes through this community.
Frank, like many other members of the community want the timely intervention of government to savage what is left of them while they also want some aids for those who already displaced
As the surge of the river keeps eroding the Abari community, Shoreline protection seems to remain a solution to check this menace affecting lots of communities along the shore of the river.
Advertisement