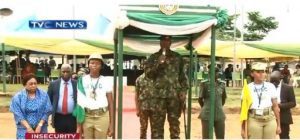 With the increasing rate of kidnapping and banditry in the Country, the National youth service Corps has warned Corp members to desist from embarking on unnecessary travels that may put their lives at risk.
The NYSC Director General gave this warning at the 2019 batch B stream1 swearing-in ceremony of Corps members in Abuja, urging them to be more security conscious.
In recent times, there have been reports of abduction of Corps members in different locations in the Country.
In May 2018, it was reported that Abraham Amuta a Corps member was abducted in Borno State when visiting an IDP Camp.
This and many other of such abductions is why the director general of the corps is warning corps members to shun unnecessary journey that will cut their year of service.
He charged members to settle down in their different locations and be security conscious.
The National Youth Service Corps swearing -in ceremony is a yearly ritual that is performed by Corps members pledging to serve their Father- land.
The 2019 batch B stream 1corps members deployed to FCT include one thousand, seven hundred and twenty eight Male and one thousand and thirty-one Female Corps members.
The Orientation camp is to run for three weeks with corps Members undergoing series of training and lectures that will help them through out their service year.