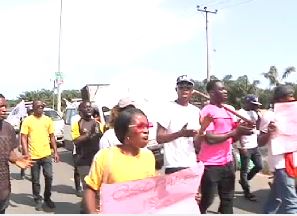 A group of youths has urged the Ondo state government to grant full autonomy to the Ondo State Oil Producing Areas Development Commission.
They took their agitations to the palaces of traditional rulers in the oil region.
Ayodeji Moradeyo reports that different groups are pushing for more development of oil producing communities of Ondo State.
This latest agitation is coming from a group of youths, known as Ilaje Advancement Forum. They made their grievances known through this protest.
They are disturbed about the slow pace of development in their communities.
From the streets, they moved round different palaces to seek support for their agitations.
They want full autonomy for the Ondo State Oil Producing Areas Development Commission (OSOPADEC), an interventionist agency set-up to develop the coastal communities. They said this will bring rapid development to oil bearing communities.
The Chairman of the Commission, Olugbenga Edema reacted to the agitations of the youths.
He urged them to be constructive in their arguments and support the commission's desire to bring more development to the oil producing
communities.