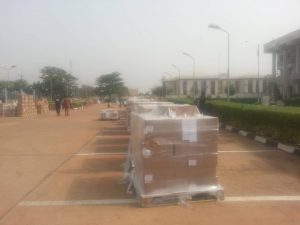 The Independent National Electoral Commission, INEC, has expressed readiness to conduct a free, fair and credible polls across the country.
The electoral umpire said it has put every necessary plan and action in place to ensure a hitch-free poll.'
BENUE
It is a bee-hive of activities at the independent national electoral commission in Makurdi, the Benue state capital.
Although, the commission is yet to take delivery of the sensitive materials, adhoc staff and election observers are at the INEC office checking their names and locations, they have been posted to.
Advertisement

Security men are on ground to ensure safety of Inec ad-hoc staff and sensitive materials, as they are being mobilized to the 23 local government areas of the state.
Speaking with TVC news, the public relations officer to the Resident Electoral commissioner said if the election materials do not arrive on time, it might be difficult for the adhoc staff to get to their polling units, before 8am on Saturday.
ADAMAWA
The Independent National Electoral commission said it is ready to conduct free and fair polls.
In Adamawa State, the resident electoral commissioner who spoke to TVC news, said troubled Madagali local government area of the state, is safe for the conduct of a peaceful election.
Kasim Gaidam assured residents that security has been beefed up in flash points across the state, to ensure the safety of voters at the polls.
CROSS RIVER
In Cross Rivers State, Ad-hoc staff of the Independent National Electoral Commission were seen as early as 7a.m, checking their names and confirming the locations, where they have been posted to.
The ad-hoc staff are expected to move to the 18 local government areas in the state. Security men said they are also set to ensure the safety of Inec ad-hoc staff and sensitive materials.
ABIA
Sensitive materials are ready to be moved from the CBN to the INEC office at Umuahia, Abia state capital and then distributed to the various Local Government Areas of th and polling units.
Abia state INEC Public affairs officer Bamidele Oyetunji assured of the readiness of the Abia INEC to conduct the elections.
Party Observers were denied entrance into the INEC premises and shared thier concerns with us.
EDO
In Edo state, vehicles are fully parked at the Central Bank office waiting to transport sensitive materials to various polling units in the state.
Security officials and political party Agents are also waiting to monitor the distribution.