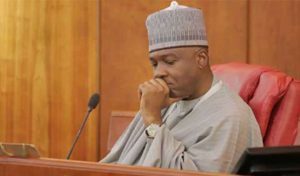 There is a new twist to the drama between Senate President Bukola Saraki and the Police.
The authorities have now asked Saraki to respond to allegations levelled against him in writing, as opposed to appearing at the force intelligence response team office, Abuja.
The Force Headquarters had, over the weekend, said they invited the senate president to come and respond to allegations by five of the suspects arrested over the April 2018 Offa bank robberies in which 30 persons, including nine policemen, died.
The Senate President had earlier today, asked his aide to obtain the letter of invitation by the Police,which would have enabled him honour the "alleged invitation"immediately.
Saraki had denied the allegation and indicated interest in honouring the invitation of the police.