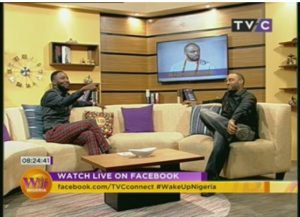 Nollywood Tinsel star today revealed his wife frowns at him kissing on movie set.
He disclosed this during an interview segment with #TVCWakeupNigeria show. "He said often time my wife will complain  of my constant kiss on movie set, but I keep telling her, we have more than 20 people behind the camera and as such no string can be attached. My wife is a God fearing woman and we both enhance each other. Being married is quite a different phase of my life, I am a lot richer than I was before. I have to think of what makes her happy first. I am less individualistic now because I have to think of her more.
"Being married is quite a different phase of my life, I am the kind of person that love solitude it got to a stage of my life that I have come to realize that I don't matter anymore but my family."
Kalu disclose  that "Your better half is your missing ribs"the wonderful thing is when you find it, my wife is an accountant and a makeup artist, what attracted me to my wife was that she loves God more than I do, she is honest, intelligent but the most important thing is that we love each other.
Advertisement

What do you think about this?