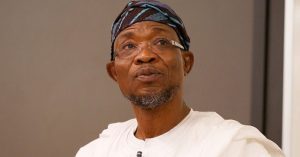 Funding of public tertiary institutions in Nigeria should not be the outright responsibility of the government.
Osun state governor, Rauf Aregbesola stated this at the commissioning of access road leading to the main campus of the Osun State University in Osogbo.
Aregbesola canvassed that funding of public tertiary institutions be spread across the society through grants, donations and endowments.
He said the state government has stopped funding UNIOSUN urging the various institutions to look inwards for their sustenance.
The major financier of the project and chancellor of the institution, Folorunsho Alakija expressed the danger inherent in Nigeria's tertiary education if not quickly salvaged through proper funding.
The access road which cost over 350 million naira was financed by Folorunso Alakija who donated 250 Million naira