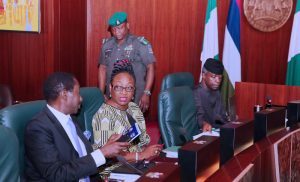 The Federal Executive Council has urged Nigerians not to panic but to report all suspected cases of Monkeypox to health facilities and continue to maintain a high level of hygiene.
This formed part of issues discussed at this week's meeting of the Federal Cabinet in Abuja.
Council received a report on the state of public health in the country and dwelt extensively on the outbreak of Monkeypox in Bayelsa, Rivers, Ekiti, Akwa Ibom, Lagos, Ogun and Cross River States.
Council assured citizens that there was no need to panic because in total, only 33 suspected cases have been discovered so far but no death has yet been recorded.
The report also covered other outbreak of diseases in the country, such as the current status of the Lassa Fever outbreak, the declining cases of cholera in Borno State , and the ongoing outbreak of Yellow Fever which started in Kwara State.
Health Minister, Professor Isaac Adewole, disclosed that Government had decided to embark on a reactive campaign in Kwara and Kogi States starting from Friday the 13th of this month.
Council also considered the incessant Strikes in the country in recent times and has adopted a report submitted by the technical committee on industrial relations matters and will henceforth enforce the "NO WORK,NO PAY RULE" which is a law that is still in existence.