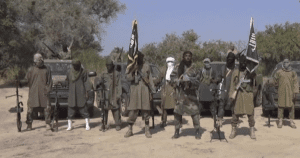 The Nigerian Army has given a progress report on activities of Operation Lafia Dole, in the fight against Boko Haram insurgents.
Theatre Commander, Major General Ibrahim Attahiru addressing the media in Maiduguri on Wednesday, told journalists about the gains troops have made in the last month.
The eight-year insurgency in the north east has left millions displaced and many dead.
The Federal Government has not spared anything and has deployed land component, and air component to end the war.
Despite these, the terrorists still launch attacks on military formations, but they have always met their waterloo.
Recently, the insurgents tried to attack from Yamteke area with the intention to overrun Gwoza town, but failed.
According to Major General  Attahiru, it took the gallant efforts of the troops to repel the terrorists
The Theatre Commander also spoke on the success of the operation as well as its challenges.
The Commander spoke on the suspected terrorists facing trial.
Since the launch of Operation Lafiya Dole, Boko Haram has been pushed back into the expansive Sambisa Forest.
The military has also recorded a lot of successes in its war on terror.
The authorities say the group had been technically defeated.