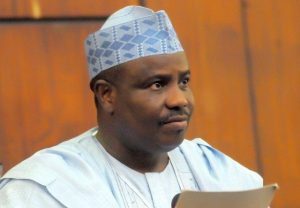 There appears to be a crack in the ranks of the ruling All Progressives Congress (APC) in Sokoto state following the outcome of the party primaries that produced Abdullahi Kalanbaina as the party flagbearer for the October 28th by-election for Wamakko/Kware Federal Constituency.
This is as one of the contestants in the primaries, Mohammed Sadiq dumps the party to pick the opposition People's Democratic Party ticket to contest against his former party.
Sadiq contested the party's ticket in 2015 against the late member, Abdullahi Wamakko who died on the 14th of July 2017 to pave way for this renewed political battle.
Aggrieved Sadiq alleged manipulation and delegate intimidation among other irregularities that worked against his emergence as the APC flagbearer in the October 28th election.
He says he dumped the APC for the PDP haven't realised the same forces that worked against him in 2015 still controls the party and are manipulating the party apparatus in the state base on their whims and caprices.
He however expressed disappointment in the way and manner politics his been played in the party in Sokoto state without fairness to all and total disregard to principles of the APC at the national level.