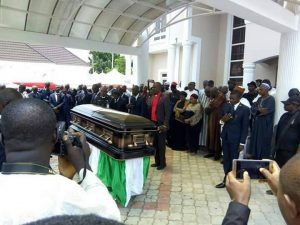 Taraba state governor,  Darius Ishaku and his deputy on Friday received the corpse of former Governor of the state, Danbaba Suntai, at the state airport which has already been renamed after him.
The Governor who could not hold back his emotions in the presence of dignitaries busted into tears.
Late Suntai was later moved to LCCN St Luke's Cathedral, Mayo Gwoi, Jalingo for wake keep.
Ishaku had earlier declared Friday a public holiday to enable the people of the state receive Suntai's remains as well as participate in the activities lined up for his burial.
Advertisement

As part of the burial activities, a valedictory session was held at the state House of Assembly, as well as a valedictory executive council meeting at the Executive Chamber of the government house in Jalingo.
At the valedictory meeting attended by present and past members of the state executive, governor Ishaku and his cabinet took turn to eulogise Suntai and pray for the repose of his soul.
Speaking, Ishaku described Suntai as a compassionate leader whose character and commitment to the development of the state was exemplary.
He said Suntai would be remembered for hardwork, humility, dedication and generosity as hallmarks of his administration, saying his good deeds far outweighs his short comings.
"Suntai was a very great leader who dedicated himself to the service of the state and would be remembered for his compassion, humility and generousity to mankind and all the people who came across him."
Also speaking at the valedictory session at the state Assembly, the Speaker, Abel Diah described Suntai as a visionary, pragmatic and courageous leader who was envied by many but was loved even more by the vast majority of the people of the state.
According to him, "late Suntai was a pragmatic, decisive and courageous leader who could not be taken for granted. He was undaunted in his commitment to peace which facilitated his unparalleled zeal for development.
"Though envied by many, he was loved by even more," he said.
The corpse will be laid to rest on Saturday at his Suntai village.