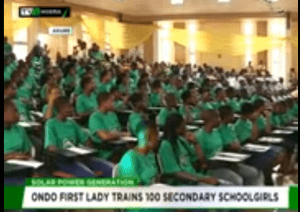 About one hundred secondary school girls selected across the state, are participating in the five-day solar panel training in Ilara- Mokin.
During the programme tagged, "Solar for Girls in Naija", the girls would be trained on renewable energy system, which would enable them to build solar panels for power generation.
Speaking at the official launch of the programme, the Ondo first lady said the aim of the workshop was to bridge the gap between men and women in the
solar energy sector.
Anyanwu-Akeredolu added that the programme would encourage more girls to study Science-related courses in school, for them to make meaningful contributions to their environment and the society at large.
The facilitator of the programme, Lilian Adesokan and other trainers spoke on the importance of the programme.
It is believed that such initiatives will assist Nigeria in boosting the energy needs of the country.