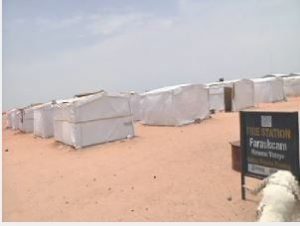 An Internally Displaced Persons camp has been provided with solar power, opening up a world of opportunities for them after years of no electricity.
.
TVC News correspondent Kolomi Dala reports that the Bakassi Internally Displaced Persons camp in Maiduguri is presently home to more than 39,000 people, and it is the second largest IDP camp in Africa after the Dalori camp, which is also in Maiduguri.
The free solar power kits were provided by the Global Initiative for Food Security and Ecosystem Preservation.
The camp had been without power, and anyone who wanted to charge a phone depended on a few of the IDPs who could afford generators.
With solar power now here, the displaced persons are first trained on how to install the kits.
Hajara Abubakar, who has a tailoring shop within the camp, is pleased with the provision of solar power which she said would change her life.
" I am so happy and overwhelmed by the gesture ,before now when am cutting my tailoring fabrics at night I use torch light and i thank God today I can use the solar power energy to work easily at night, I thank you people and I appreciate you all," Hajara Abubakar said.
" We have been using torch lights to many of our house work, at times when our batteries run down and when we want buy new ones, we are sometimes disappointed that they have ran out of stock from the shops in the camp, thank God, today we can use our solar power energy, to do our work, even at night, thank you all for this gesture," some of the beneficiaries said.
The solar power system will enable the IDPs engage in commercial activities, charge their phones, and light up their tents, without any bill.
They're happy about it, and hope other organisations would come in with projects that will help them live normal lives.