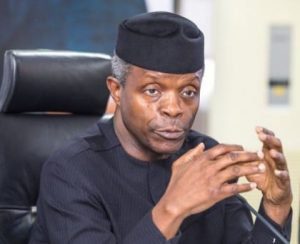 The Centre for Human and People's right advocacy in collaboration with Taraba Concerned Citizens Forum have commended Acting President Yemi Osinbajo for the proactive action taken to curtail killings in Mambilla community in Sardauna local government, Taraba State.
The group at a press conference in Jalingo, speaking through its National Coordinator, Barr. Mohammed Bello Mustapha,pleaded with the Federal Government to do more to douse further tension in the area.
The group accused Governor Darius Ishaku and Speaker of the state Assembly of complicity in the attack against the Fulani in Mambilla, Sardauna local government.
The national coordinator of the group Barr. Mohammed Bello Mustapha,alleged that Governor Ishaku did not assist victims of the attack with relief materials.
Advertisement

According to him, the affected Fulanis were not attended to at the Gembu general hospital.
But the Speaker of Taraba House Of Assembly, Hon. Peter Abel sued for peace, cautioning stakeholders in Taraba to stop uttering hate speeches that may threaten the fragile peace of the state.
The speaker who reacted to the press conference by the group through his Chief Of Staff ,Evangelist Philip Munlip said ordinarily, he would not have reacted since the state government set up a judicial commission of inquiry but for the need to put records straight since the speaker was
attacked as an individual.
He denied his principal's involvement in the crisis, challenging Barrister Mustapha and his group to pass any incriminating evidence in their possession to the commission of inquiry set up by the state government to expose perpetrators of the crisis.
He commended Governor Ishaku's efforts in seeking assistance from the acting President who deployed troops to the area to restore peace to the area. .
Governor Ishaku described the allegations against him as baseless and a figment of the imagination of the group .
The Governor who spoke through his director of Press and publicity, Hassan Minjiyawa said the state government is concerned about the plights of the victims, which prompted Ishaku to send a delegation led by his deputy to the area with relief materials.
The communal crisis which erupted between Fulani and Nguroje community at Sardauna local government area of Taraba State has divided human Rights groups and opinion leaders into two groups, one group supporting the herdsmen and the other, supporting farmers.