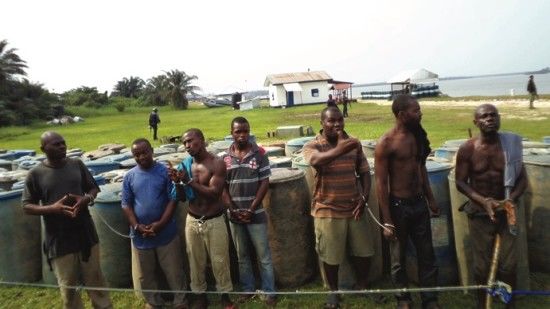 Sixteen persons arrested by the Nigerian Navy for various crimes in the creeks of the oil-rich Niger Delta region have been paraded before newsmen in Warri.
The sixteen suspects whose crimes range from crude oil theft to sea piracy and impersonation of security agents were paraded by the Commander of NNS Delta, Joseph Dzumve in warri on Wednesday.
Correspondent Carl Ofonye that was there for TVC News reports that the sixteen suspects were arrested during routine operations in the creeks in  renewed efforts to curb oil theft and sea piracy in the the volatile Niger Delta Region.
The Commander, NNS Delta that paraded them said they committed various crimes considered inimical to Nigeria's critical oil sector and growth of maritime business.
Advertisement

Commodore Dzunve seized the opportunity to reiterate the commitment of NNS Delta to providing security on the nation's water ways and also ensuring that oil and gas facilities in its area of operation are protected.
The News men that attended the briefing were later shown where the seized boats laden with stolen crude oil were kept in the navy yard.
The NNS Commander also showed us items used by the oil thieves to vandalise
pipelines.
When interviewed, none of the suspects in custody admitted having a hand in any of the crimes they were accused of committing .
But despite this, the Navy says they would be handed over to the relevant government agency that will ensure their prosecution.