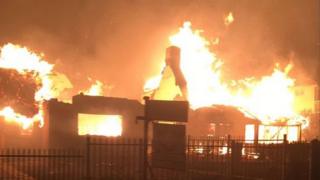 More than 10,000 people in the South African coastal resort of Knysna have been evacuated as wildfires fanned by strong winds ripped through the town, razing homes.
Eight people have been killed, three of them in the Knysna area, as the worst storm to hit Cape Town in three decades made landfall on Tuesday.
The bush wildfires destroyed property in 20 suburbs as buses were sent to evacuate trapped residents of the tourist town, renowned for its oysters and rugged coastal scenery.
Thousands of people in shantytowns, who have had to cope with the region's worst drought in a century, have been hardest hit, as floods and heavy rain washed away homes built of planks and zinc sheets.