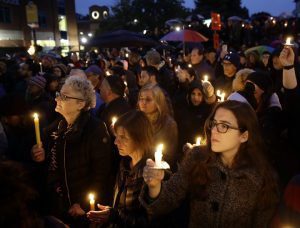 Many people have taken part in a vigil held for victims of a shooting attack on a Synagogue in the San Diego city that left one woman dead and several wounded.
19-year-old John Ernest who authorities said gave himself up to police shortly after carrying out the deadly shooting is also under investigation for an unsolved mosque arson.
Investigators are examining a "manifesto" he apparently left behind on social media along with other digital evidence.
They are also probing his possible involvement in an unsolved arson at a nearby mosque about a month ago.