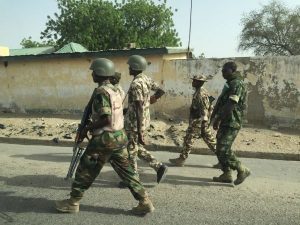 Troops of the 177 Guards Battalion of the Nigerian Army have arrested five suspected militias in Ugyi town in Toto Local Government Area of Nasarawa state
Army spokesman, Brig.-Gen Texas Chukwu reveals the troops recovered one Daihatsu SUV jeep, seven motorcycles and some arms from the militias during the raid.
Other items are four 9mm rounds of ammunition and a cartridge, twenty-six daggers and a list containing phone numbers, one sword and forty pieces of customised regalia.
Chukwu said a preliminary investigation is ongoing, adding that the suspects would be handed over to the appropriate authority on completion of the investigation.