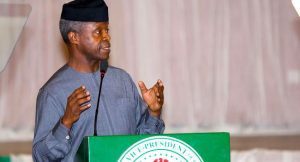 Acting President Yemi Osinbajo has been urged to visit Taraba state for on-the-spot assessments of the crisis between Fulani herdsmen and farmers.
Members of the Taraba Youth Patriots for Peace and True Democracy also warned of an alleged move by Fulani mercenaries to unleash reprisal attacks in the coming days.
Speaking at a press conference, they called on the Acting President to come to their aid by personally visiting the state for on-the-spot assessments.
Spokesman of the group, Nelson Len appreciated efforts taken so far by the Governor, Dairus Ishaku but warned that more needs to be done to nip the crisis in the bud.
Len accused the Federal Government of not paying heed to Governor Ishaku who had earlier raised an alarm about terrorists assembling within the state.
He also frowned on calls to declare a state of emergency in the state.
Some members of the group urged the Federal Government not to take sides in the crisis but to restore peace and stability.
Palpable tension still envelopes Taraba State a month after the communal crisis that erupted between Fulani herdsmen and Farmers in Sardauna local government Taraba State.
Many believe the crisis has sown a seed of discord among various ethnic groups in the affected areas.