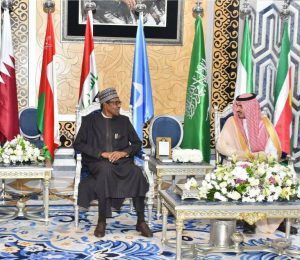 President Muhammadu Buhari has arrived Jeddah, the Kingdom of Saudi Arabia to participate in the 14th session of Organization of Islamic Cooperation conference.
The President was accompanied by the Chairman/CEO, National Hajj Commission of Nigeria (NAHCON), and he is also expected to attend the IOC gathering of over 50 Countries.
President Buhari departed Abuja on Thursday for the Conference in the Kingdom of Saudi Arabia, a day after he was sworn in for a second term in office.