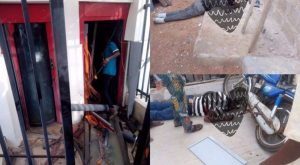 Police authorities have ordered the deployment of three Mobile Police Units to Kwara State, following the daring bank robbery in Offa town.
Three other units will be deployed to Taraba State, to prevent more violence in two local government areas there.
Jimoh Moshood, force spokesman, in a statement in Abuja on Sunday said anti-robbery equipment and 10 crew members were also deployed to the state.
Moshood said three additional PMF units were also deployed to Taraba to prevent further attacks in Donga and Bali local government areas by gunmen.
He said the units which had arrived Kwara would cover Offa and its environs as well as other vulnerable points in the state.
The spokesman added that the police teams would carry out intelligence gathering and raids on identified criminal and other flash points in the states.
He said the team deployed to Kwara, working in synergy with the state criminal intelligence and investigation department had arrested eight suspects connected with the bank robbery.
The force spokesman said the unit deployed to Taraba would cover Donga, Bali, Lau, Gassol, Karim Lamido local government areas and other flash points in the state.
Moshood said the team had also arrested 12 suspects directly responsible for the recent killings in Donga and Bali.
He said items recovered from the suspects included seven AK 47 rifles, four locally made revolver pistols and 30 rounds of AK 47 ammunition.
Others were seven operational vehicles used by the armed robbers and assailants in the two incidents.
Moshood called on the residents of the states to be calm, supportive of the police and promptly report suspicious acts or persons to the nearest police detachment or station for prompt action.
In the meantime, another suspect has been arrested in connection with the Kwara bank robbery, bringing the number of persons held to eight.