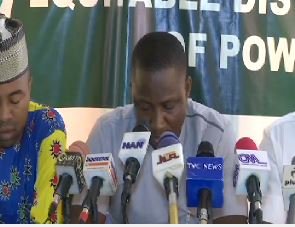 The National Youth Council of Nigeria has commended President Muhammadu Buhari for his disposition to true federalism and Nigeria's unity.
But the youth group wants the authorities to walk the talk as a way of placating perceived and real cries of marginalisation across the country.
Correspondent Joke Adisa reports  that agitations for a functional federal system in Nigeria have been on the rise in recent times. It was the focal point of campaigns in the build up to the 2015 general election.
From the South East to the South South, cries of marginalisation, real or imagined, dominated the air waves. Political parties with their candidates gave assurances that these concerns would be redressed to strengthen the nation's unity.
Only recently, President Muhamamdu Buhari threw his weight behind the call for the adoption of true federalism in the country.
In his words : "At a time when some few privileged individuals and groups have chosen to exploit and manipulate the ethnic and religious faults for seeking personal and partisan advantage, we need to build bridges across the different divides and instil faith in the unity and indivisibility of one Nigeria."
Now, the youth group is tasking President Buhari to walk the talk, especially now that the clamour for elective offices of the Ninth National Assembly is gaining momentum
Indigenes of the Federal Capital territory are also not left out of cries to the Authorities for recognition in the entity called Nigeria
The youth council proposes to pay advocacy visits to Nigeria's political parties, particularly the two leading parties with a view to passing its message for true federalism across.