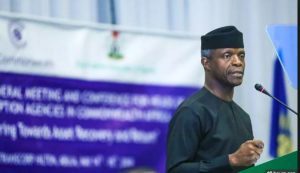 Vice President, Yemi Osinbajo, says African leaders must keep the issue of Asset Recovery and return on the front burner of international discourse.
He was speaking at the Eighth Commonwealth Regional Conference For Heads of Anti- Corruption Agencies in Africa which held in Abuja.
The event was attended by stakeholders and personalities of high standing in Africa who are resolute that there is a need by countries in the Commonwealth to make corruption an issue of conscience
Vice President Osinbajo stated that the Buhari administration's irrevocable commitment to the fight against
corruption has been recognised worldwide and earned president Buhari, the African Union designation in 2017, as its Anti-Corruption Champion for the year 2018.
For Vice President Yemi Osinbajo, Nigeria's stand on corruption is further underscored by it being at the forefront of sponsoring Resolutions aimed at enhancing Mutual Legal Assistance and Asset Recovery and Return.
He insists that fighting corruption is futile if the African countries do not ensure that the proceeds of corruption find no safe haven and that such proceeds are fully recovered and promptly repatriated
While Declaring the conference open Osinbajo called on governments of African States to actively provide funding for anti corruption agencies because the fight against corruption has taken on a far more sophisticated and vicious dimension ever than before.
According to him, the public-private sector collaboration is one of the most complex web of corruption to deal with.
"Developing countries loses over $1 trillion annually due to corporate theft. Africa loses more than $50 billion annually to corruption and most of these come from the extractive industry," he said.
Speaking further, Osinbajo called for more transparency among commonwealth countries with regards to warehousing the proceeds from corruption by ensuring that ill-gotten wealth does not find a "safe haven".
"African countries must come together to keep the issue of assets recovery on the front burner and embrace information sharing in the fight against corruption," he said.
He also disclosed that the additional $300 million of Abacha loot that would be released by Switzerland would be channelled to social programmes like the conditional cash transfer scheme and N-Power initiative.
Some of the guests at the event include Nobel laureate, Professor Wole Soyinka, The Common Wealth Secretary General, Baroness Patricia Scotland, Former South African President  Thabo Mbeki, Acting Chairman, EFCC, Ibrahim Magu  and  Former Nigerian Head of State, General Yakubu Gowon.