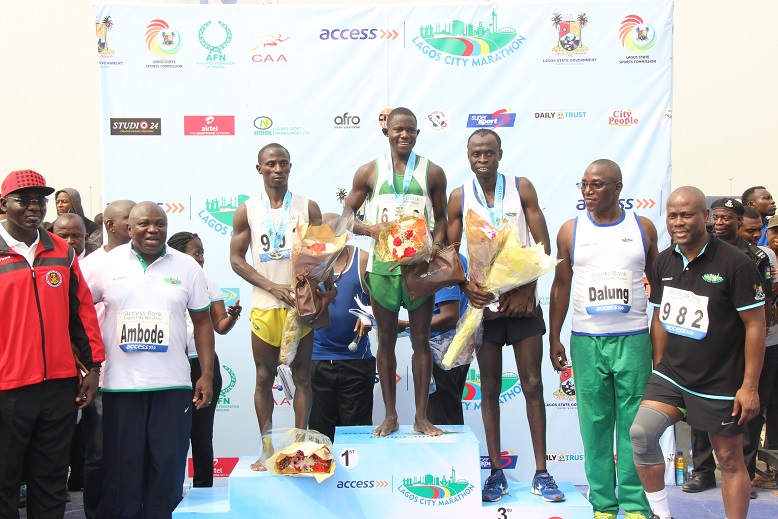 Nigeria's Sports Minister, Solomon Dalung will receive the first Nigerian male and female runners at the just concluded Lagos City Marathon on Tuesday in Abuja.
Dalung will also present monetary incentives of N500, 000 to each winner.
The Minister made the pledge at the medals presentation ceremony at the end of the 2018 edition of the race on Saturday.
For the 2nd year running, Ilya Pam from Jos was the 1st Nigerian to cross the line, while Deborah Pam also won in the women's category.
The Minister will also receive 2 children, who completed 22km and 10km respectively at the race. He pledged to support their running career with N100,000 each. A new champion with a new course record emerged in the race as Kenyans and Ethiopians make a clean sweep.
Born in Kenya, but running in the colours of France, Abraham Kiprotich returned a record time of two hours, 13.04 minutes to win.
Another Kenyan, Ronny Kiboss repeated his performance last year with a second position in a time of two hours, 13.26 minutes.
Victor Benjamin finished third. It was an all Ethiopian affair in the women's race. Herpha Guta Alemenesh won in two hours, 38.25 minutes.
Gema Metachew Tigist came second while Hordofa Ayelu Abebe came third. Tired of handing the top prizes to East Africans, host governor, Akinwunmi Ambode, has promised to provide the funding over two years to help Nigerian athletes defeat the Kenyans and Ethiopians.