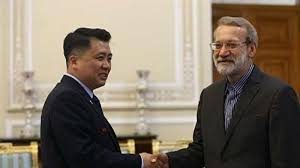 Iranian Parliament Speaker Ali Larijani has applauded North Korea for exercising vigilance against the US's "unilateral" demands, stressing that Washington is not after a "true deal" with Pyongyang.
Larijani made the remarks in a meeting with visiting Vice Chairman of North Korea's Supreme People's Assembly Pak Chol-min in Tehran on Tuesday.
Larijani said that North Korea adopted an "intelligent" decision in the face of Washington's "unilateral demands," adding that "the Americans are not after striking a true deal with North Korea, but they merely want to disarm the country and put pressure on it."
Larijani further hailed North Korea's pursuit of economic independence, expressing Iran's keenness to boost bilateral economic ties with the East Asian country.
The North Korean official, for his part, emphasized that the Islamic Republic, under the guidance of Leader of the Islamic Revolution Ayatollah Seyyed Ali Khamenei, has stood firm against excessive US demands.
Iran and North Korea, which are both under tough US sanctions, should expand their cooperation in all fields, especially economy, he noted.