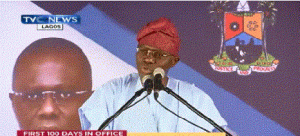 Lagos state government is set to make new policies in key areas of development.
Governor Babajide Sanwo-olu revealed this as he marked his first one hundred days in office on Friday.
The governor also gave account of his stewardship within the period.
The All Progressives Congress chieftains, royal fathers, religious leaders and other residents converged on Lagos not only to hear what the governor has achieved within his first 100 days in office but to also know the next step.
A day after being sworn-in, the governor signed an executive order which introduced zero tolerance on environmental abuse, traffic matters and potholes, more than 150 roads have been fixed across the state.
Sanwo-Olu gave a perception to what residents should expect next.
The sum of 10 billion naira has been set aside as grant under the Lagos State Employment Trust fund and about 600 people are already billed to benefit from the initiative.
To promote public security, 120 patrol vehicle and 35 motorcycles were donated for the use of security operatives in the state.
Leader of market men and women and some residents want more.
One of the most visible impact of this administration in the last 100 days is the disappearance of heaps of garbage on the streets of Lagos but being
an emerging mega city requires much more and this will occupy the administration for the next three years and nine months.