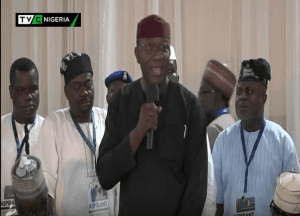 Minister of Mines and Steel Development, Kayode Fayemi, said his victory at the APC Governorship primary belongs to all Ekiti people who desire a change.
Fayemi said the successful conclusion of the keenly contested primary is proof that political power resides with the people.
The former governor said he desires to return to power is to better the lives of the citizenry and not to seek revenge against any individual or group.
He said good governance, which gives priority to a better standard of living will return to the state, when an APC government returns to power in October.
Fayemi noted that his victory at the APC governorship primary on Saturday has signaled the beginning of battle to rescue the state from bad governance, poverty and desecration of Ekiti values allegedly wreaked on the people by the People's Democratic Party (PDP) administration.
He made the remarks in his acceptance speech after winning the APC governorship primary beating 31 other contestants at a keenly contested battle for the party's ticket at Damlek Event Centre, Oke Ila, Ado-Ekiti, Saturday night.
Fayemi secured 941 votes in the rescheduled exercise held on Saturday, against Segun Oni's 481.