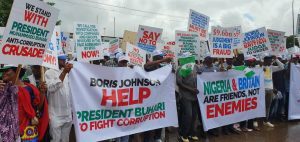 A Coalition of Civil Society groups is protesting for a second day at the British High Commission and the Embassy of Ireland over  the $9.6bn Judgment against Nigeria by a British court.
The court gave judgement in favour of Process and Industrial Developments (P&ID), an Irish engineering company, over a gas contract with Nigeria
Their grouse is the $9.6bn (nine point six billion dollar) judgment against the Nigerian government with regards to the contract agreement with the Process and Industrial Development Company.
The Protesters said this is another illegal means to defraud the Nigerian government. They gave both governments 21 days ultimatum to come to an agreement on the judgement.