Tech billionaire, Elon Musk has launched a new artificial intelligence company called xAI.
Mr Musk said the company hired researchers from Google, OpenAI and other top technology firms.
The goal, according to Musk is "to understand reality."
xAI is a separate entity from Musk's other businesses, such as Tesla and Twitter, but will work closely with them, according to the new company's website.
The company said it will be advised by Dan Hendrycks, director of the Center for AI Safety.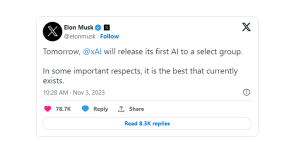 Elon Musk unveiled his much anticipated artificial intelligence startup, xAI, on Wednesday alongside a group of engineers from US technology companies.
According to him, he intends to take on in his quest to create a substitute for ChatGPT.
Musk has warned for months about AI's potential for "civilizational destruction," arguing that a race among companies such as Google and Microsoft to develop the technology should be halted to allow time for drafting regulation for the sector.