The Students of the Ekiti State University today shuts down the University Road in Ado Ekiti for more than 3 hours in protest of what they described as extortion by the school Management.
The Students in their hundreds armed with various placards says they are opposing the idea of 5,000 naira payment for late registration, as they decry the huge amount required for school fee, Internet services, and other payments they are compelled to do.
Speaking to TVC NEWS, the SUG PRO Says it is worrisome that they do not enjoy any facility in the institution, as there has been power outage both within and outside the University premises for more than 5 years.
Several students also spoke airing their grievances, from unconfirmed transaction, to double payments, to unconducive learning environment, harassment and intimidation among others.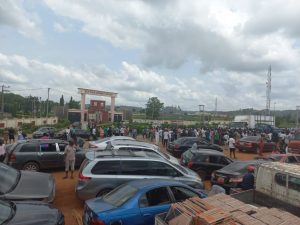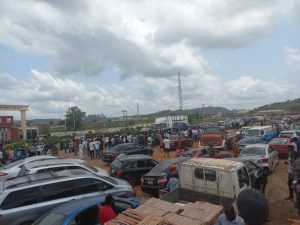 Reacting, the Deputy Vice Chancellor Academics, Professor Ayodele Babatope says the Genesis 0f this crisis is the refusal of Students to comply with the directive of the institution to register early for academic activities, which they were penalised for. He further states that the 10,000 naira penalty was reduced to 5000 naira after Student's initial outcry.
He says other issues being raised by students are inconsequential and manipulative and says academic activities has been suspended by 2 weeks starting from Today 11th of April to find amicable solution to the issues on ground.