The National Agency For Food And Drug Administration And Control, NAFDAC, has condemned the country's increasing use and abuse of bleaching creams.
According to NAFDAC, the dangers of bleaching creams could cause health problems that could become life-threatening.
Director General of the agency, Professor Moji Adeyeye, raised the concern in Ibadan on Friday at the southwest zonal media sensitisation workshop on the dangers of bleaching creams and regulatory controls.
She said people who continue to use and patronise bleaching creams as well as related cosmetic products risk becoming susceptible to cancer and organ system toxicity.
She said: "Last year, the Secretary to the Government of the Federation, Boss Mustapha, acting on the resolution of the senate, wrote to NAFDAC stressing the need to take stringent regulatory action to stem the dangerous tide of rampant and pervasive cases of Nigerians using bleaching creams.
"We immediately took some decisive steps such as sensitisation of the public through different media outlets, enforcement through intelligence and raids on trade complexes that have resulted in large seizures and destruction of violating products."
The DG also stated that the alarming statistics of Nigerians who bleach their skin necessitated NAFDAC's increased awareness campaign and crackdown on violating products.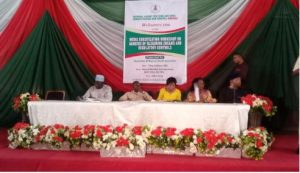 Professor Adeyeye urged Nigerians to avoid using bleaching creams and urged the media to work with the agency to help get the message to the grassroots for greater effectiveness.
She noted that: "A World Health Organization's (WHO) study in 2018 revealed that use of skin bleaching creams was prevalent among 77% of Nigerian women, which was the highest in Africa compared to 59% in Togo, 35% in South Africa and 27% in Senegal.
In her own presentation, the Deputy Director (DER) of the agency, Anto Ebele provided a full overview of skin bleaching from NAFDAC's perspective, harping on the social consequences of the menace.
The Director of Chemical Evaluation and Research of NAFDAC, Dr Leonard Omopariola, warned on the dangers of ingredients of bleaching creams such as methyl methacrylate, ethanolamine and hydroquinone among others.
He explained that some manufacturers deliberately leave out the correct names of the ingredients of their products to confuse consumers, hence the need to be more vigilant.
Roseline Ajayi, Director of NAFDAC's Southwest Zone, urged Nigerians to be conscious of the contents in the products they apply to their bodies, stressing that this awareness can mean the difference between health and infirmity.
The Deputy Director (DR&R), Linda Halim, spoke on behalf of the department about the regulatory oversight of cosmetics in Nigeria, paying particular attention to the impact on skin.
She emphasised that because the skin is the body's greatest organ, it needs to be safeguarded in any way possible for the owner's general health.