Ondo State Governor, Oluwarotimi Akeredolu, has called on the people to troop-out enmass on Saturday to vote for the Presidential Candidate of the All Progressives Congress (APC) Asiwaju Bola Ahmed Tinubu.
The Governor also enjoined the people to vote for all Senatorial and House of Representatives candidates of the APC in the election.
The Ondo State Governor explained that the choice of Tinubu can not be faulted judging from the political workings of the country.
He spoke during a meeting with stakeholders in Owo.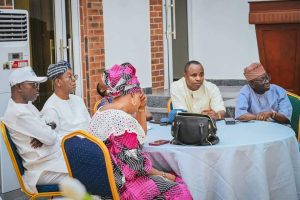 The Governor highlighted the benefits of electing Tinubu as the next President of the country, describing him as trusted and tested leader.
He said his insistence on Southern Presidency was for fairness and Equality, adding that since a Northerner has spent eight years in the saddle, it is the turn of the South.
According to the Governor, Tinubu is the most competent with track record among those contesting for the presidency in the South.
He explained that the country was built on a tripod, noting that the gentleman agreement on rotational presidency should be honoured.