The federal government has established a Wellness Center for Federal Civil Servants in an effort to reduce preventable medical issues in the workforce.
Head of Civil Service of the Federation, Folashade Yemi-Esan while commissioning the Centre said the move was in line with the Federal Civil Service Strategy and Implementation Plan, 2021 – 2025 (FCSSIP 25).
According to her, the inclusion of Staff Welfare as one of the Strategy's six pillars underscores the importance the government places on the lives and well-being of Civil Servants, not only as citizens, but as a privileged section of the population charged with driving development in Nigeria through policy formulation and implementation.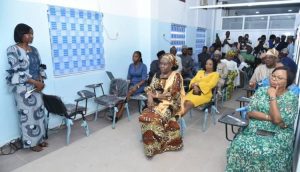 "The International Labor Organisation (ILO) estimates that about 2.3 million women and men around the world succumb to work-related accidents or diseases every year. According to the Organisation, this corresponds to 6,000 deaths every single day.
"The available data also reveals that around 160 million victims of work-related illnesses are recorded annually".
"Notwithstanding the unpleasant curve in the physical health indices, I feel what is more significant is that a good number of the ailments are preventable through the right application of knowledge and attitude to work and health," she said.
The Head of Service emphasised the need for promotion of Culture Change through frequent and adequate sensitization on a healthier lifestyle among workers and exploring partnerships for the development of the centres.
"Every one of us should seek useful, adequate and accurate information on common health conditions and how to prevent or successfully manage them. The need to comprehensively pay attention to our health status is more crucial, especially due to the sedentary nature of our jobs as civil servants coupled with the tendency to be solely committed to the demands of office and neglecting one's physical well-being. With the right attitude, support and management, it is expected that the services provided at the Wellness Centre will translate to a significant reduction in medical conditions and improve the wellbeing and productivity of our workers," she added.
She further stated that one of the cardinal roles of the Wellness Centre was to ensure that health seminars, mental health counselling and promotion of regular health screening for early detection of medical conditions are available, periodically.
It is hoped that all workers will make the best of the opportunities the centre will provide to promote a productive work-life full of health and wellness extending even after service".
Yemi-Esan further enjoined all Civil Servants to take ownership of the facility and see to its adequate maintenance for it to remain beneficial to civil servants and other users.