President, Muhammadu Buhari has laid the foundation of the new ECOWAS headquarters Complex in Abuja, the nation's capital.
President Buhari who performed the ground-breaking ceremony alongside Presidents Umaro Embalo of Guinea Bissau and Julius Mada Bio of Sierra Leone noted that the edifice once completed would represent the unity and brotherhood of the Member-States.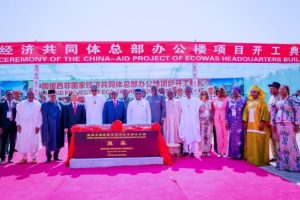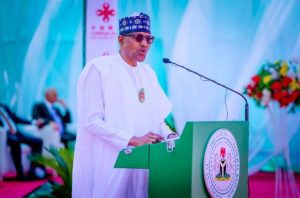 The complex which is donated by the Chinese government to ECOWAS will be known as the "Eye of West Africa" and is expected to be commissioned in February 2025.
President Buhari said that once the three major ECOWAS Intuitions of ECOWAS; the ECOWAS Commission, ECOWAS Parliament and the Community Court of Justice put in one building would strengthen the operationalization of the regional institutions and foster regional integration.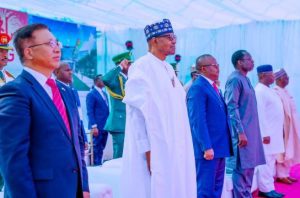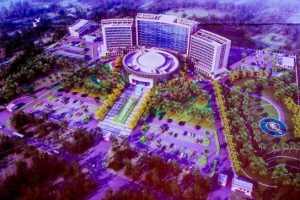 He further said that the building would be a befitting edifice to the West African region and the Continent adding that the Nigerian government and ECOWAS Institutions in Abuja had agreed to consolidate ECOWAS operations in one complex, a departure from operating at three different locations.
The new complex according to President Buhari would represent the unity and brotherhood of the Member-States, as well as signify a re-commitment to progress and regional integration.
President Umaro Sissoco Embalo of Guinea Bissau, who is also the Chairman of the Authority of ECOWAS Heads of State and Government thanked the Chinese government for the unique support to ECOWAS which he said signifies a true commitment to partnership and friendship.
"We thank the government of Nigeria for its support to ECOWAS and the government of China for this unique support to this project which ECOWAS needs for its success.
"I am convinced that with this new headquarters, the staff shall function in the best condition so that they are able to deliver their duties. I wish we will all be alive to witness the inauguration," Embalo said.
President of the ECOWAS Commission, Dr Omar Alieu Toray, said that the building of the complex to house community institutions in one building will enhance operational efficiency, reduce cost and increase productivity.