The Head of the Civil Service of the Federation Dr. Folasade Yemi-Esan, CFR has urged Civil Servants to look for opportunities that will promote peace, unity and tolerance for one another toward a better Nigeria.
She said this at a the dedication of a newly constructed Federal Civil Service Club, which was named after her in Yola, Adamawa State, Northeast Nigeria.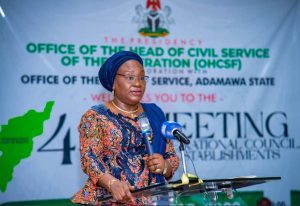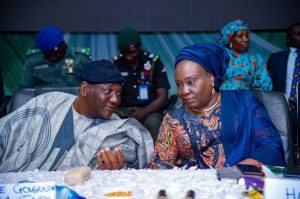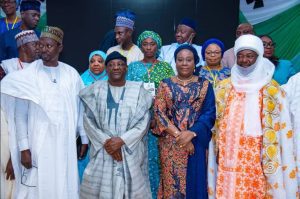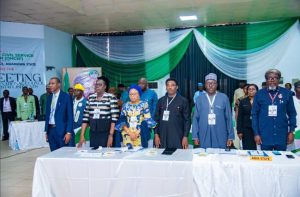 She emphasised that the Federal Civil Service Clubs, located in various parts of the country are being renovated due to the importance the Federal Government and the Office of the Head of the Civil Service of the Federation attached to the welfare of Civil Servants.
According to her, Civil Servants, who work very hard towards ensuring the growth and development of the nation, need good facilities, as well as conducive environment to relax and interact amongst themselves after work, hence, the approval to rehabilitate and build, where necessary.
She further noted that Civil Service Clubs are also meant to uplift the image of the Service, while giving Civil Servants a sense of pride and comradeship, which it is known for while urging the Civil Servants to maintain their confidence by constantly improving themselves, by being dynamic.
Dr. Yemi – Esan further urge stakeholders of the Civil Service Club in Yola to ensure that activities in the Club are dignifying, so as to attract as many personalities as possible for increased patronage that will yield revenue for the Federal Government.
She added that Civil Servants should think out of the box and partner with Institutions within the State, in order to maintain, as well as keep the Club vibrant.
Earlier, the Permanent Secretary, Service Welfare Office, disclosed that the rebuilding of the Club marks the reawakening of supervisory role of the OHCSF, adding that through the efforts of the HoCSF, the Federal Civil Service Clubs, nationwide, now have a budget.
While calling on the Managers of the Club to be innovative, she implored Federal Civil Servants in Adamawa State to take ownership of the project, maintain, as well as sustain it.
The Chairman, Federal Civil Service Club, Adamawa State, Mr, Mohammed Aminu Sambo, disclosed that the intervention by the Head of Service was unprecedented, which necessitated the naming of the Club after her.
Meanwhile, Dr. Folashade Yemi-Esan called for more commitment to service delivery in the Federal Civil Service.