Niger state governor Abubakar Sani Bello has assured the people of Kagara in Rafi local council of his continuous efforts to bring normalcy to every part of the community and other parts of the state as he presented a staff of office to the Emir of Kagara,  Malam Ahmed Garba Gunna, Attahiru II
The people of Kagara have been without an Emir since the death of their Emir Salihu Tanko Kagara who died on the 1st of march 2021.
The town was one of the earliest victims of banditry attacks when some boys were kidnapped from their dormitories in government science college kagara.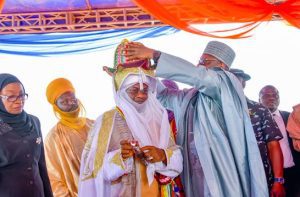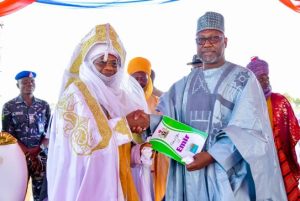 In April 2021 the Niger state governor Abubakar Sani Bello appointed the then Acting Chairman of the Niger State Revenue Board, Ahmad Garba as the new emir following the decision of the 14 kingmakers of the emirate.
They made the choice of Mr Garba out of 4 other contenders who were heirs to the throne including the biological son of the late emir.
After a year and 8 months the Niger state governor is here to present the staff of office to the emir as a symbol of authority and backing of the state.
Governor Bello did not spare words to express how timely he believes the ceremony is and it's potential to settle the challenges unsettling the peace of thale people.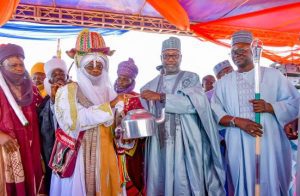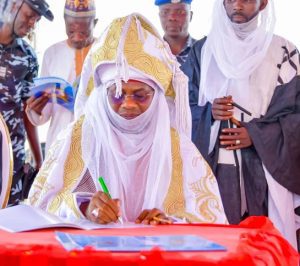 He commended the Emir and the local government Chairman for working closely to ensure that relative peace is achieved in the local government urging them not to relent.
As a mark of honour and acknowledgment of the illustrious history of the kagara emirate, all the first class Emirs in Niger state graced the occasion and the Sultan of Sokoto was represented by the Etsu Nupe .
They lent credence to the Authority of the new emir and promised their support as a council of traditional rulers.
The Emir of Kagara, Alhaji Garba Gunna in his acceptance speech promised to uphold the oath he took and the allegiance he pledged.
He further appreciated the Governor for not interfering in the selection process that culminated to his ascension to the throne.