Nigeria has been granted a $1.5 billion loan by the US Export Import Bank to improve solar power infrastructure
Adam Cortese, Chief Executive Officer of SUN Africa LLC, USA, disclosed this to newsmen after the company's delegation met with President Muhammadu Buhari in Abuja.
Advertisement

Cortese added that the loan was a government-to-government facility with a 20-year term that is expected to increase solar power infrastructure in ten various areas across the country.
Cortese said, "This is government-to-government financing. It's built upon the success that we've had in Angola recently, where roughly $2.6bn of solar PV storage and transmission capacity has been delivered.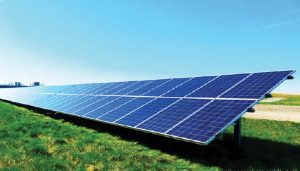 "The US-EXIM Bank has approved the sum of $1.5bn loan to boost the Nigeria solar power infrastructure which is a government-to-government loan, meaning from the US-EXIM Bank to the government of Nigeria, but it's being done on a concessional rate; over 20-year tenure, which is extremely attractive."
He went on to say that the assets will be owned by the Niger Delta Power Holding Firm, and that low-cost electricity would be created to help the company repay the debt.
President Muhammadu Buhari praised the US Bank's interest in investing in Nigeria's power industry, stating that the federal government will continue to work with the private sector to improve energy access, job creation, and industrial development.
The president said his administration has embarked on so many reforms in addressing the Nigeria's energy needs, while highlighting some of the reforms
"Signing of the Nigeria Climate Change Bill in November 2021, implementation of the Power Sector Recovery Programme with the World Bank.
"Nigeria Electrification Programme aimed at enhancing energy access to remote communities.
He added that his administration has implemented numerous measures to solve Nigeria's energy needs.
Buhari underlined that initiatives like this will go a long way toward boosting local capacity through technology transfer and relieving transmission limitations through power generation and distribution in local distribution companies.
He went on to say that the Presidential Power Initiative, in collaboration with Siemens, aims to achieve end-to-end alignment across the entire value chain.